Recordings
Click on the

icons for a short low quality audio sample of some of the tracks
To obtain a copy of any of these CDs contact Mike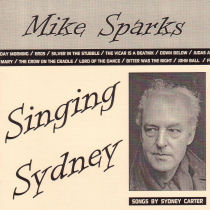 Singing Sydney
CD released 2004
Songs by Sydney Carter
Eros
The Crow On The Cradle
Bitter Was The Night
Lord Of The Dance
Judas And Mary
Friday Morning
Silver In The Stubble
Down Below
The Vicar Is A Beatnik
John Ball
All songs written by Sydney Carter
Vocals & Guitar - Mike Sparks
Chorus Vocals - Johnny Collins, Graeme Knights & Bob Hambledon
Recorded at Liberty Hall Studios, New Barnet
Engineered by Phil Cleare & David Millins
MSCD03
The CD was reviewed in "Unicorn" folk magazine:
"Mike Sparks is a well-known singer, songwriter and resident at the Herga Folk Club in North London. His latest project is 'Singing Sydney', an evening of reflection, humour and celebration of the Songs of Sydney Carter. To accompany this project is this CD, featuring 10 of Sydney's songs. Sydney Carter was a folk poet, 'holy sceptic' and iconoclastic theologian and a leading member of the folk revival of the '60s and '70s. He died in 2004, having composed two of the five most popular songs sung in asemblies in British Schools - 'One More Step' and 'Lord of the Dance'. Yet his songs were not all about religion - he wrote about the ageing process in men ('Silver in the Stubble') and as a Londoner born and bred, about his home city ('Eros' and 'Down Below'). All these songs (excepting 'One More Step' - I wonder why?) and others such as 'Judas and Mary' and 'The Vicar is a Beatnik' feature on Mike's CD - a worthy catalogue of the works of a prolific writer and important figure in popular music even to this day."
Unicorn #90 (Apr-Jun 2005)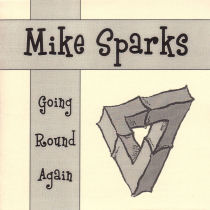 Going Round Again
CD released 2003
A selection of Mike's most popular songs
A Potato Has Feelings
Jack Hamble (The Gravedigger)
Ain't It Grand
Leather And Last
St George's Day
Sailing Down The Orwell
The Shades Of Love
English Puddings
Where The River Meets The Sea
Your Country Needs You
Thirteen Florins On The Bar
My Lady At Tescos
Reach For The Gin
Embalming Tommy
Launch The Lifeboat
All tracks written & performed by Mike Sparks
Recordings engineered & produced by David Constable
Tracks 1-10 & 15 recorded on 4/9/2003
Tracks 11-14 recorded on 14/4/1999
CD sleeve layout & design by David Constable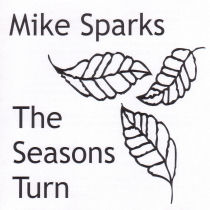 The Seasons Turn
CD released 1999
Limited availability
Reach For The Gin
A Nutting Down In Kent
I Have Served Indentures
Misty Morning On The Orwell
Santa's Shanty
The Anti Shanty
Thirteen Florins On The Bar
My Lady At Tescos
Embalming Tommy
Follow The Hearse
The Greatest Gift
The Seasons Turn
Recorded on 14/4/1999
Engineered and Produced by David Constable
Mike Sparks Songs
cassette released 1994
NOTE: This cassette is no longer available
Side One
The Jolly Thatcher
The Scrapyard Song
Rod The Drain
Jack Hamble (The Gravedigger)
Newlyweds Reel *
Leather And Last
Side Two
A Potato Has Feelings
English Puddings
The Song Of The Jarrow Marchers **
The Coaching Inns Of Barnet
Sailing Down The Orwell
* Traditional, arranged by Carole Clarke (Recorder: Carole Clarke, Bodhran: Mike Sparks)
** Written by Charlie Hardy
Recorded on 3/11/1994 at Liberty Hall Studios, Barnet
Charlie Hardy
Flowers Of Tyneside
CD released 2000
A recording of Charlie Hardy performing his own songs
Limited availability
"87 year old Charlie Hardy has been prominent on the North London folk club scene for almost 40 years. Blessed with a fine voice, he has also penned songs mainly about his beloved Tyneside, which have passed into the tradition. These are some of them."
Song Of The Jarrow Marches
Yards Of The Tyne
Cambrian Coals
Flowers Of Tyneside
Blood On The Coals
Down By The River Tyne
Doreen
Tyneside Lament
Recorded on 29/2/2000
Engineered & Designed by David Constable
Produced by Mike Sparks & David Constable